Tire Rotation Service in Chicago, IL
Of all the services that your vehicle needs to keep running smoothly, a tire rotation may not be very high on the list. However, it is still an essential part of your car's upkeep. That means you need a dealership that can get the job done efficiently. We at Kingdom Chevy would be more than happy to lend a helping hand. Stop by to see us in person or call us at 877-921-8488 to learn more!
If you're not sure what a tire rotation is, we are here to explain it! It's simply a process of switching your front tires with your back ones. The reason it's important to get this done every so often is so that all four of your rubbers wear out evenly. Your front two tires provide the majority of the stopping power every time you hit the brakes suddenly, which means their treads wear out faster than your back two. This service not only keeps you safe, but it also saves you money because normally tires are cheaper when all four are bought at once, rather than just two.
If you notice that you're not stopping as quickly as you should, or if your fuel ratings are beginning to decrease, these are signs that your rubbers are in bad shape. You can test your tires' tread levels at home with the simple Penny Test. Just place a penny with Lincoln's head facing down into the groove of your tire. If more than half of his head is still showing, it means that the treads on your tires are worn out. When you're in need of an oil change, you can also come in for a tire rotation, since they are on a very similar maintenance schedule. Before you come in, however, make sure to take advantage of our current service specials!
One of our goals is to make your time with us stress-free. When you come in for a tire rotation service, you'll be escorted into our comfortable waiting room, where you can enjoy a hot cup of coffee on us! Meanwhile, our technicians will inspect every part of your vehicle to make sure it is in tip-top shape. Your oil levels, tires, brake pads, air filter, and even your windshield wiper blades, will all be checked. Our staff will have you in and out in no time!
When you're in need of a tire rotation in Chicago, IL, make sure to stop by Kingdom Chevy. We have convenient business hours Monday through Saturday, so there is always a good time for you to come by. We look forward to meeting you!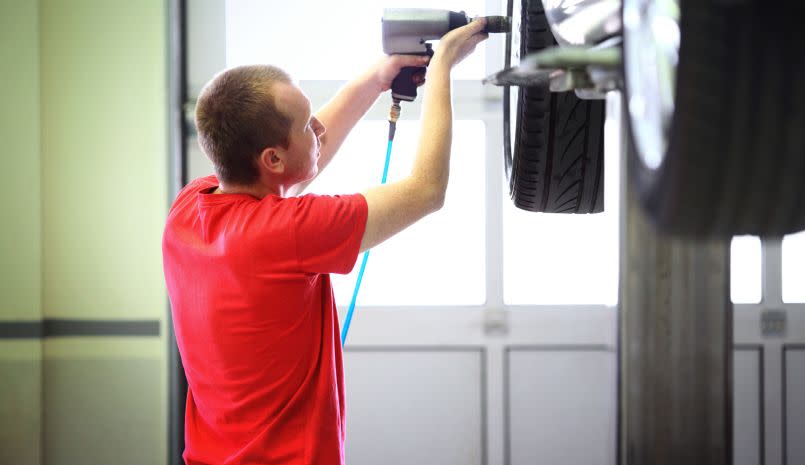 Service Hours
773-432-3001
| | |
| --- | --- |
| Monday | 7:30 am - 6:00 pm |
| Tuesday | 7:30 am - 6:00 pm |
| Wednesday | 7:30 am - 6:00 pm |
| Thursday | 7:30 am - 6:00 pm |
| Friday | 7:30 am - 6:00 pm |
| Saturday | 8:00 am - 5:00 pm |
| Sunday | Closed |
Testimonials
GOOGLE
7-11-2020
GOOGLE
7-11-2020
GOOGLE
7-11-2020
GOOGLE
7-10-2020
GOOGLE
7-9-2020
GOOGLE
7-9-2020
GOOGLE
7-9-2020
GOOGLE
7-9-2020
GOOGLE
7-9-2020
GOOGLE
7-9-2020
GOOGLE
7-9-2020
GOOGLE
7-7-2020
GOOGLE
6-28-2020
GOOGLE
6-26-2020
GOOGLE
6-23-2020
GOOGLE
6-20-2020
CARGURUS
6-19-2020
GOOGLE
6-17-2020
GOOGLE
6-13-2020
GOOGLE
6-9-2020
GOOGLE
6-9-2020
GOOGLE
6-6-2020
GOOGLE
6-5-2020
GOOGLE
6-4-2020
GOOGLE
6-2-2020
Read More