Oil Change Service in Chicago, IL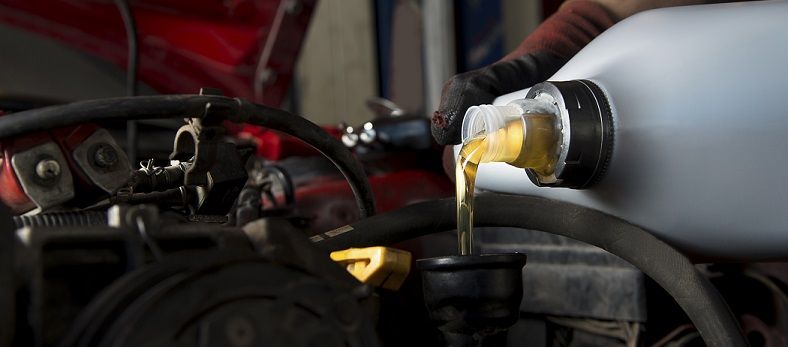 If you find yourself needing a trusted team of mechanics to help you maintain your vehicle, let us at Kingdom Chevy take up the challenge. Some services, like an oil change, can take up a bunch of your time and money, but our goal is to eliminate both and get you back on the road in no time. Our Service Department has convenient business hours Monday through Saturday, so stop by whenever you have a spare moment!
It's safe to say that oil is an essential component to the daily running of your car. Acting as a lubricant, this precious golden liquid allows your internal engine parts to run smoothly over one another. It also simultaneously prevents dirt, grime, and other debris from harming your engine. However, nothing lasts forever, and eventually it will have to be replaced with a fresh batch. Otherwise, your engine parts create friction and heat up to the point where you could potentially experience total engine failure. This, in turn, would cost you a fortune to repair. That's why it's so important to come into Kingdom Chevy when the time comes for a change.
Speaking of timing, it can be difficult to determine when your oil needs changing. Factors like driving conditions, geographical area, driving habits, and more, all play a role. Here in Chicago, we experience all types of weather conditions and terrains, which means you may have to go in more often than some other areas. If you begin to hear a grinding noise coming from underneath your hood, it means your engine parts are rubbing against one another and you should probably get some new oil in there. The easiest way to find out when you need to come in, however, is to consult your Owner's Manual. Reserve your appointment online whenever you are ready to stop by!
Our technicians in our Service Department are here to serve you. From quick oil changes, to full body repairs, we can take care of all of your needs. When you do come in, our mechanics will inspect every inch of your vehicle to make sure that you are good to go. Your fluid levels, tires, and air filter, will all be checked and replaced if need be. Our team is both efficient and diligent, so you can trust their work every time!
For an oil change service in Chicago, IL, take your vehicle into Kingdom Chevy and let our expert technicians have a look. We offer exceptional customer service and affordable deals that will keep money in your pocket. You can find us at 6603 South Western Avenue in Chicago, IL. We hope to see you soon!
Service Hours
773-432-3001
| | |
| --- | --- |
| Monday | 7:30 am - 6:00 pm |
| Tuesday | 7:30 am - 6:00 pm |
| Wednesday | 7:30 am - 6:00 pm |
| Thursday | 7:30 am - 6:00 pm |
| Friday | 7:30 am - 6:00 pm |
| Saturday | 8:00 am - 5:00 pm |
| Sunday | Closed |
Testimonials
GOOGLE
7-31-2020
GOOGLE
7-29-2020
GOOGLE
7-29-2020
GOOGLE
7-16-2020
GOOGLE
7-13-2020
GOOGLE
7-12-2020
GOOGLE
7-11-2020
GOOGLE
7-11-2020
GOOGLE
7-11-2020
GOOGLE
7-11-2020
GOOGLE
7-10-2020
GOOGLE
7-9-2020
GOOGLE
7-9-2020
GOOGLE
7-9-2020
GOOGLE
7-9-2020
GOOGLE
7-9-2020
GOOGLE
7-9-2020
GOOGLE
7-9-2020
GOOGLE
7-7-2020
GOOGLE
6-28-2020
GOOGLE
6-26-2020
GOOGLE
6-23-2020
GOOGLE
6-20-2020
CARGURUS
6-19-2020
GOOGLE
6-17-2020
Read More